Kyra Smith judges a book by its cover in her review of Maledicte.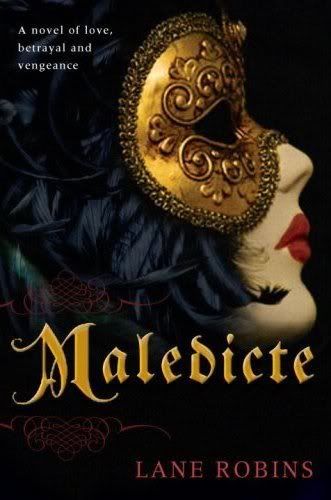 Revenge!
Cross-dressing!
Intrigue!
Oh my!
I bought
Maledicte
on a whim because Amazon told me I might like it and because the cover, as you can see, is absolutely gorgeous. Yes, I'm actually that shallow. It's a a pretty decent read, all in all, that doesn't quite live up to the promise of its premise but Lane Robbins is definitely one to watch.
Miranda and her lover Janus are relict rats, children who have grown up in one of the worst slums of Antyre, today's generic fantasy location. But one day, Janus is stolen away by none other than his own father, the Earl of Last, who needs an heir, even an illegitimate one. Miranda is devastated by the loss of her lover and swears vengeance on those who took him from her. Having disguised herself as a man (woof, oh yes, please!) and re-named herself Maledicte (good name!), Miranda's pursuit takes her to the household of the debauched Baron Vornatti who detests Last and with whom she strikes a deal. In return for the use of her body, Vornatti trains her in the ways of the court, in swordplay, treachery and blackmail. But, unknowingly, she has already made a deal with one of Antyre's exiled Gods, black winged Ani, the Goddess of love and vengeance.
Basically
Maledicte
is a fine old fashioned melodrama, stylistically reminiscent (although, sadly, not as good) as
Swordspoint
. There's plenty of duelling (verbal and literal), corruption, and courtly intrigue and the brooding, murderous presence of black winged Ani lends a genuinely sinister air to a narrative that could otherwise be all glitter and no gold. Antrye is lightly sketched to say the least, truthfully I have no idea what the world is like. The book is saturated with atmosphere - decadent, declining aristocracies out the wazoo - but it lacks the substance to be anything other than scenery.
I can't believe I'm complaining about lack of world building
again
. My reputation, Iago, my reputation.
In some ways the lack of substance works in its favour. Information on the exiled Gods is rare and comprised mainly of fragmented hearsay; this really contributes to the power and menace of Ani as she slowly drives Maledicte deeper into murderous insanity, making her presence known in flurries of black feathers and other ominous symbols. And to be fair, I'd rather lose world to character than character to world but can't I ever have both?! Is there some unwritten rule of fantasy that says you can only be good at one thing? I have the feeling
Maledicte
may garner sequels, although it stands alone very credibly so perhaps greater exposure to the world will bring it into focus.
The pacing and the characterisation are a little uneven, as you might expect from a first novel. Events are either dragging or speeding past at breakneck speed but the story is absorbing enough that you keep reading anyway. The narrative jumps from character to character and from point of view to point of view, from omniscient to limited without any particular sense of internal cohesion, which makes it rather jarring to read. It's also incredibly distancing, as you often find yourself looking at Maledicte from the perspective of an unimportant minor character when you'd rather be in her head. But then the distancing is itself necessary because Maledicte is such a fundamentally unsympathetic character, which was one of the things I really admired about the book.
She's half-mad, obsessed with revenge, manipulative, immoral, selfish and cruel - one could easily imagine such a character becoming a sort of antiheroic Mary Sue (because mean people are just so damn cool) but somehow Lane has created a wonderfully compelling character that you'd probably run away screaming from if you ever met her in the street. Well ... maybe. It's already well established that I like my women psychotic and in drag, but enough about my personal life. Maledicte is an impressive feat of detailed, subtle characterisation. The secondary characters are usually almost as well done: Baron Vornatti is a bit of a pervert-by-numbers but there's an exuberance about him that's oddly attractive, the weary and melancholy King who becomes enthralled by Maledicte is genuinely moving, and Vornatti's catamite and Miranda's only true friend, the gentle Gilly is a wonderful and necessary counterpoint to all the nasty bastards bent on their own advancement.
The only let down, really, is Janus. Maledicte spends the first half of the book in pursuit of him and the second half of the book sacrificing everything for love of him but he's clearly a completely worthless waste of time from the moment he appears. The problem with this is that the central premise of the whole book rings rather hollow - we don't really see Miranda and Janus together before he's kidnapped and when they are reunited it's hard to understand what they have that's so precious to Maledicte. Also he's called Janus for God's sake. Lane might have well called him Fuckwit and have done with it.
It's a shame that the Miranda/Janus relationship is so lacklustre because the rest of the book is emotionally intense and utterly compelling. It also means that when Janus's inevitable betrayal occurs (this isn't a spoiler, it's as obvious as an Obvious Factory in Obviousville), instead of a shocked or pained reaction, the reader says "well, duh." It also unbalances the themes of the book because Miranda's love never burns as brightly as her vengeance. When she's mad and furious and murderous, she's always believable and you root for her even as you cringe from her. But when she's with Janus, she just ... isn't. They're an utterly uninteresting pair. Maledicte's growing relationship with Gilly does save the situation a bit but, since the reader spends so little time in Maledicte's head, it feels a little bit one-sided and, although her turning from Janus to Gilly makes perfect sense (since Janus is such an arseweasel) it doesn't seem emotionally convincing.
In spite of its flaws,
Maledicte
is definitely worth a read. Maledicte is an original and extremely successful (anti)hero(ine), and there's plenty of sex and violence, all of it well handled. Lane has created a dark fantasy novel that truly deserves the name.
bookmark this with - facebook - delicious - digg - stumbleupon - reddit