Wednesday, 24 September 2008
Wardog is probably a bit patronising.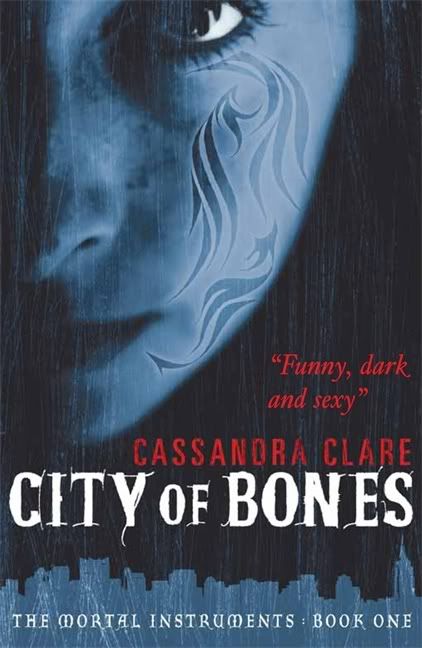 Like all inflexible people, I like to think of myself as being relatively open-minded and, therefore, in the spirit of open-mindedness I recently got round to reading (or rather attempting to read) Cassandra Clare's
City of Bones.
I wanted to like it, no really, I genuinely did. Cassandra Clare, for all those who have been living under an internet stone, is a pseudonym of a pseudonym, but Cassandra Cla(i)re, back in the day, wrote fanfic, the very popular
Very Secret Diaries
and The Draco Trilogy, which seems to be no longer available on the internet at the request of its author (interesting that, hmm?). Well, when I say no longer available on the internet, what I mean is ... not available unless you spend about five minutes looking, which I might have just done. For the record, said trilogy is beautifully decorated with anime-style Draco Malfoys and black roses. Awww. She also has a hefty set of pages over at the
Fandom Wank Wiki
(trust me, if anything needs a wiki, it is fandom wank), which are suitably, painfully entertaining in a "for what do we live, but to make sport for our neighbours, and laugh at them in our turn?" kind of way.
Anyway, background cheapshots and raised plagiarism eyebrows aside, I really have no strong opinions on either fandom or Cassandra Cla(i)re, but I quite liked the idea that a popular, moderately competent fanfic writer managed to break into the publishing world. Fanfic is a difficult beast to comprehend unless you're right there in its mouth but, as far as I see it (and, bear in mind, if you do write fanfic this is probably going to sound like the simplistic flailings of an outsider), there are three possible attitudes, or at the very least a spectrum with some definable stopping points on it:
1) Fanfic is art, man, art and there is ultimately no difference between
If You Are Prepared
and
Bleak House
. They're both pretty damn long for starters.
2) Fanfic is like original fiction but not as good, and is basically written by people who can't get their own stuff published
3) Fanfic is entirely different from original fiction
Since the first one is clearly non-viable, and the second is actively rude, I subscribe to the third. Writing for fans and writing for publication is vastly different, and to assume that the one aspires to the other is rather to miss the point (and, arguably, the pleasures) of fanfic. Even so, I would have thought the gulf between fanfic and original fiction to be eminently jumpable. I mean, the ability to string a decent sentence together is a transferable skill, right. Right? Well, evidently not. To be fair, my problems with
City of Bonesa
are not about the sentences (although they are of questionable quality), they goes rather deeper than that.
The truth is I actually couldn't read the damn book. I had to give up. It's not that it was, y'know,
bad
as such, although it occasionally was, it just didn't - to my mind at least - make the leap from fanfic to original fiction at all successfully. I know attempting to draw a distinction between fanfic and original writing is likely to get me shot at dawn but it's the only hope I have of articulating why
City of Bones
just doesn't work.
As far as I could tell from the sliver I read, City of Bones is young adult urban fantasy. The heroine, Clary Fray, (and let's not even ask why an author who calls herself Cassandra Clare decided to call her heroine Clary) is exactly the sort of spunky young thing you would expect of a modern heroine. She's out at a nightclub with her best friend Simon when she happens to witness a supernatural murder. Demons yadda yadda vampires yadda yadda Shadowhunters yadda yadda sardonic attractive blonde yadda yadda yadda wise old mentor with bird yadda yadda. Look, truthfully, I don't really have any idea what the plot is because I only made it to page 63.
And
this
is the exact moment when I snapped.
"In the distance she could hear a faint and delicate noise, like wind chimes shaken by a storm. She set off down the corridor slowly, trailing a hand along the wall. The Victorian-looking wallpaper was faded with age, burgundy and pale grey. Each side of the corridor was lined with closed doors.

The sound she was following grew louder. Now she could identify it as the sound of a piano being played with desultory but undeniable skill, though she couldn't identify the tune.

Turning the corner, she came to a doorway, the door propped fully open. Peering in she saw what was clearly a music room. A grand piano stood in one corner, and rows of chairs were arranged against the far wall. A covered harp occupied the centre of the room.

Jace was seated at the grand piano, his slender hands moving rapidly over the keys. He was barefoot, dressed in jeans and a gray T-shirt, his tawny hair ruffled up around his head as if he'd just woken up. Watching the quick, sure movements of his hands across the keys, Clary remembered how it had felt to be lifted up by those hands, his hands holding her up and the stars hurtling down around her head like a rain of silver tinsel."
Let's skim all over the things that are awkward about this passage ... wind chimes only make sounds when they're stirred and piano music doesn't sound like that anyway ... how can wallpaper be faded with burgundy ... can a skill be desultory but undeniable ... why does it have to "clearly" be a music room, surely it is just is one ... how many times can you say "hands" in one sentence ... how does she know he's barefoot, he's playing the bloody piano ... and what the fuck is with the rain of silver tinsel...
But, yes, skim all that and riddle me this:
Wouldn't that whole scene be so much better if it turned out be Draco Malfoy sitting at the grand piano?
There's a technical name for what's wrong with this passage. In the industry we call it "blowing your load prematurely" (question is, what industry). Seriously, though, we're on page 63, we've spent all of 20 of them in the company of this character (and, let's face it, he's a pretty, sardonic, wise-cracking faintly angsty type very reminiscent of Cla(i)re's take on a certain slytherin): why the fuck should we be even remotely interested in the sight of him at a grand piano? It's a very senses-heavy scene: we have the sound distant music, the wallpaper beneath Clary's fingertips, and the lovingly detailed description of the ruffle-haired eyecandy sitting at the piano, so there's this self-conscious build up, deliberately (albeit not entirely eptly) evoking something of the fairytale, and what's the pay off? Up until this point the tawny-haired Jace has been a rude and snippy, so it's clear that this little scene is meant to show us a different side of him but character revelation scenes only function when you know the character well enough to experience it as a revelation. This is just ... information, excessively presented. It's like being hit over the head with a neon sign saying: "you should fancy this character now." And for the record, he's a demon hunter, not a concert pianist so there really is no reason to have that scene there except as drool-footage.
Possibly I'd feel differently if I was a teenage girl but I hope I'd have more taste.
What the scene did for me, aside from inducing me to throw the book across the room in disgust, was exemplify the subtle sense of
wrongness
I'd been getting throughout the previous 62 pages. Essentially
City of Bones
reads like fanfic - and I don't mean that as kneejerk indicator of poor quality, I mean that it reads like something constructed for a different purpose, functioning on a different ruleset. Leaving aside any criticisms of the actual style, this scene would probably work - for me - if I read it as fanfic. It's visually and linguistically striking - the juxtaposition of scruffy boy and fine old instrument (sorry), the hint at aspects of a character hitherto unknown, the touch of submerged melancholia (playing the grand piano to an empty room is a lonely hobby), all this would be fine if the mysterious pianist turned out to Draco. I mean, playing the grand piano is one of the things that one could potentially imagine Draco being able to do. Well, if you stopped and thought about it for a moment, probably not, because surely wizards have ... like ... magical pianos, or house elves to produce their music for them. But given that Draco is a repressively raised posh kid, it seems to me at least credible his parents made him have piano lessons, even if he hated it. And Draco, being the wizarding equivalent of genetically modified, would probably be reasonably good at it regardless.
I truthfully have no idea what it is that makes fanfic work but it seems to me to have something to do with
potential plausibility
. Scenes of certain characters doing things they never explicitly did in the books (even if this is fucking each other) resonate with you because it feels both novel and familiar - to continue the musical theme, if I presented you with Remus Lupin playing the electric guitar you might raise an eyebrow because he's far too bookish and quiet, but it would totally suit Sirius Black for example. Or even James Sodding Potter. And such scenes require no build-up because the reader already knows the characters being written about. Equally, dwelling on the details, and presenting very visual, senusous scenes, seems less purple than it does when you do it in original fiction because it helps to establish a familiar character in what may be an unfamiliar setting: for what's it worth, I can picture Draco Malfoy playing the grand piano very vividly. Pale hair, slender fingers, whatever. Fan fiction, even if you're looking at a 100,000 word AU fic, seems to be all about the establishment of moments, which need not necessarily (and probably don't) exist as part of a continuum of moments.
This is absolutely the opposite to a book.
The scene of Jace/grand piano has utterly no resonance for the reader because, well, partly because it's rubbish and partly because no time has been given to properly establishing the character so it's essentially meaningless, but mainly because it has no real sense of its place in a connected, developing narrative. Although the 63 pages I read did occasionally have moments of genuine mediocrity that made me suspect I should try to be more generous with the text, the whole reading experience felt so ultimately hollow I couldn't bring put myself through it. There's nothing inherently wrong with something reading like fanfic - fanfic reads like fanfic and I quite enjoy the stuff - but
City of Bones
is a work of original fiction, it's a book that I paid real money for (more fool me) In essence, then, it's original fiction without the necessary underpinnings, and fanfic without any of the characters you like. Worst of all possible worlds.
bookmark this with - facebook - delicious - digg - stumbleupon - reddit