Wednesday, 10 December 2008
Douglas get all tangled up in Braid (didya see what I did there?)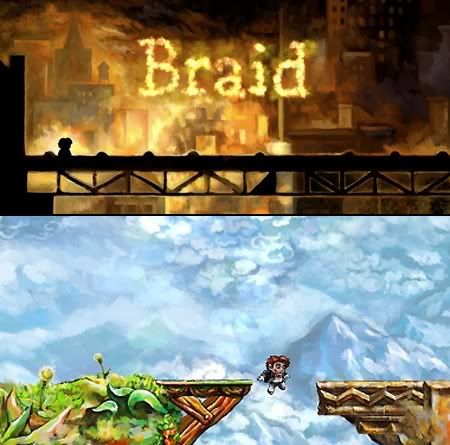 Many of the gamers amongst you will probably have heard of
Braid
, the Xbox Live arcade game that punched above its weight and gave the multi-million budget GTA4 a run for its money at the top of the metacritic charts. Some of you might have played it or be working your way through it so I'll just sound a warning, I'm going to wreck the ending in this article. If you don't intend to play
Braid
or can't be bothered with its more irksome puzzles then do read on since one of the more interesting moments of game design in recent times happens at the end.
Braid
is a time-bending platformer where you have full control over the temporality of your gameplay. You can rewind time when you die or miss a jump. After that it's just puzzles, lots and lots of key 'n' door puzzles which demonstrate different aspects of the mechanic. A new dimension of time-bending is added in each game world. In one time only moves when you move, in another every time you rewind you spawn a shadow which goes and does what you did last time around. In the penultimate world you can deploy a time bubble to really mess things up, and in the final 4 levels time actually flows backwards around you, leading to the big finish.
Braid
has indie street cred. It is painfully aware of this and, like a teenager in Adidas on a mufti day, it wants to make sure that EVERYONE knows about it.
Braid
doesn't have to have a comprehensive control system, because it's indie, dude!
Braid
can quote Christina Rossetti in the credits because the man didn't touch it, dude!
Braid
is so out there, you start at level 2 and end at level zero! Braid's creator Jonathon Blow isn't shy of saying exactly what he thinks of the modern games industry and gamers in general in scathing terms. His
walkthrough
for the game is one good example of this. You aren't allowed to wreck his vision, it comes before everything else. Underneath the stylish touches
Braid
loses quite a lot of its indie bonafides (upon which it continues to trade extensively) when you realise its creator sank the best part of $150,000 into it over several years after giving up his day job as a very highly paid software consultant. Shoestring-budgeted
Uplink
or student project
Narbacular Jump
this aint, it brings a lot of modern tech to bear and spares no expense in looking and sounding oh-so-shiny.
Even if
Braid
is more a self-funded vanity/venture project than a genuine 'bedroom programmed' indie game (albeit one that has sold over 100k before even being released on the PC and made Blow vast piles of cash), it remains a recent shining example of one designer's vision writ large. Even in these days of studio-defining figures like Molyneaux and Miyamoto or auteurs like Kojima, it is rare to see this kind of clarity of vision in a finished product. It does the thing which game producers across the world want to achieve but are too afraid or constrained to go out on a limb and actually do, it
innovates.
The innovations that really worked for me were mainly those involving the game's approach to story, which Blow has just written a pretty fantastic lecture on. It's this clarity of vision combined with the novelty and high production values of the whole experience that make the game work.
The game uses intertextuality with
Super Mario Brothers
as a motivator for the plot, which is to some degree
Braid's
real stroke of genius since it allows Blow to explicitly work with the conventions and expectations of the genre. It's not hard to argue that whatever 2D platformer we're playing, we have echoes of
Super Mario
, and Blow embraces this rather than trying to be different. Man eating plants come up out of pipes, but they look oddly mottled and real. You jump on enemies' heads to kill them, but when you do they look pained and a bit accusatory. Each world ends with an approach to a castle, the raising of a flag and a variant on the phrase 'I'm sorry, but the princess is in another castle' spoken by an unassuming dinosaur. Ironically Mario's gameplay actually gets short shrift. You can run through the worlds and get to the end of all of them in a matter of minutes untroubled by the goombas and evil bunny rabbits o'death, but collecting the puzzle pieces to complete a jigsaw in each world through puzzling
with
platforming is where the challenge lies.
Every world begins with a room where several books ostensibly explain an aspect of Tim the hero's lost relationship with the princess, who, a la Mario, he is trying to rescue. Posing questions and thoughts regarding relationships or opining on the temporal aspects of life in general, these books set a thoughtful overtone for the platforming that follows. The idea is that you get meaning from the levels' gameplay that is coloured by the story. So the level where you spawn a ghost of yourself sets the tone by talking about leaving a lover behind to go find the princess, making you think about what-ifs, and the ice themed level where time is frozen talks about returning home after going to college, and those moment when time seems to freeze, a bit like Christmas, when I think about it.
***In all seriousness, what follows is one of the finest gaming moments I've seen all year, so PLEASE only read it if you never intend to play this game!***
In the final world, time flows backwards and your rewind button causes time to move forwards. You have to figure this out in three short levels before finally reaching level 1-1 and seeing the princess.
Braid's
big finish doesn't disappoint. Shouting 'help me!' the princess jumps out of the clutches of a big evil Bowser-esque knight, who yells 'come here!' stomps on the ground in anger causing an earthquake which opens a path for you while simultaneously triggering a huge wall of fire chasing you down from the left. You have to run away on the bottom half of the screen while the princess runs away parallel to you on the top half. When you reach an obstacle, she presses a switch on the top half and removes it for you, when she strains against a door trying to open it, your actions below open the door for her. Together you both run towards what must be the final castle, but gradually seems to fade out of fantasy and into more realistic environs. The princess's castle is a fairly swish modern apartment with a drive and a mailbox and even the Mona Lisa (well, she is a princess after all). She rushes in and collapses into bed while you sprint along from the bottom and, desperate to avoid getting eaten by the wall of fire, climb up her trellis and onto her balcony. When you do this the fire vanishes and time stands still. You can sort of wander about and look at the princess sleeping in her bed with her toy goomba and her cute bunny rabbits o'sweetness mobile and her cuddly unassuming dinosaur, but that's about it. Your only option to progress is to press the time rewind button, which triggers a full replay of the level in reverse. The big reveal is that since time was flowing backwards you weren't running away with the princess, rather you were running after her. Saving the princess switches to stalking the princess, and there you are on her balcony, you peeping tom. The princess sees you and jumps out of bed, running off past Duchamp's
L.H.O.O.Q
while you negotiate the castle's defences trying to stop her. When she runs through a door, you pull a lever and slam it shut trapping her skirt, the straining animation doubling brilliantly for her trying to untangle herself. Her lever pulling now triggers the obstacles you had to negotiate, and you see yourself achieving feats of otherwise impossible skill (since you were channelled through them in the original level design). You get to the end and the big friendly knight yells 'come here!', jumping to get her attention. 'Help me!' she says and dives into his arms.
A complex epilogue follows. Long story short, the reality that has underpinned all the levels so far comes to the fore and you get the choice of seeing the game as either a getting over a breakup/divorce/rejection, an abstract version of a therapy session, a repressed memory of past misdeeds or a cold hard look at how the gaming or possibly game designing thought process differs from others. There are lots of women who could be the princess. Mum, a lover, an ex, a left behind sweetheart, a wife whose ring you wear. Then again, she doesn't have to be a person at all. You've been put into the skin of a man dislocated from time, and the chickens come home to roost in the epilogue's subtexts (uncovered via puzzling around in the epilogue level itself), which are all chilling and about obsession; referencing nuclear science, the trinity test and Oppenheimer's 'I am become death, destroyer of worlds' moment. Then in the final hopeful screen you are reminded that it's just a game, and you get to raise the flag outside your own castle built from the emblems of all the puzzles you've completed, and stand inside it, and be your own princess.
The atomic obsession subtext can be realised and an alternate ending gleaned through the collection of ever-so-secret secret stars, which are so secret that there aren't even achievements for them (Dude!). The challenges required to get them involve pushing the game to its limits and torturing yourself, demonstrating obsession. One star requires you to leave the game on for several hours while a cloud travels inexorably slowly from one side of the level to another, pixel by guruelling pixel. Another requires you to restart the game and wipe your save file in order to create it from puzzle pieces before they are locked together. The reason I can't quote the epilogue and text directly here is my housemate's refusing to believe this was the case until I wiped my perfect save and showed him! The rest of the stars are timing and puzzling extremes with an occasional moral dimension. You have to murder dozens of shadows of yourself to get to one, and you have to leave the wedding ring behind to get to another. The final star is in the princess's bedroom, and you can get it after all the other stars make some tweaks to that level. Collecting it and colliding with the princess causes her to explode 'kiss me deadly' style.
Back at the main level selection screen the stars you've collected are in the sky, showing the constellation of Andromeda, 'the princess trapped'. Your obsession grafted a resolution onto the story, but at what cost? Yup, the princess was the nuke, and all the fantasy has been chained up like Andromeda. The princess is revealed as the eternal mcguffin, and the validity of reading more into her than that is questioned. Instead of the narratives forming a linkage to gameplay as in the previous levels, your actions being replayed back to you as a counter-story in the princess level have spurred you to enact gameplay into narrative and impose yourself on the text by casting the same spell on the game that the game had cast on you. You broke
Braid!
You turned it into a story about sadness, obsession and a nuclear bomb!
Since Mario is mostly responsible for making the narrative work up to the big reveal, and the exorcism of the spirit of the plumber is part of what makes the twist(s) so potent, I'm going to finish off by discussing the gamer psyche aspect of
Braid's
storyline and game design. Part of
Braid's
manifesto is the whole 'games as art' can-o-worms, and most of the narrative stuff tries to justify the product as a work of art. This runs the risk of trying so hard to push its artistic credentials that it comes off as pretentious. Blow has obviously read and contributed to game theory in general, and noted that time and the temporality of experience sets gaming apart from other kinds of entertainment. He's also noticed that the tenuous linkage between gameplay and narrative is the crucible where meaning is created in these experiences. Instead of embracing these aspects of the experience,
Braid
instead functions as something of a cautionary tale, warning against the kind of reading it simultaneously seems so desperate to get out of you.
To some extent Blow is able to say 'gotcha!' to the dedicated gamer/meaning-seeker twice over, by denying them narrative resolution with the first ending, seducing them into replaying with the epilogue and then judgementally questioning their motives when they finally do manage to jump through all his hoops. Is this because the only way to jump through the hoops for a reasonable human being is to look them up on the internet and follow one of the star-struck threads on gaming forums where gradually communities uncovered the secrets together? Is it because we were barking up the wrong tree by looking for the stars at all, we didn't get it and were still playing Mario, looking for resolutions not potential readings and demonstrating the gaming community's own resistance to the notion of games as artistic objects? Of course this is problematised since the notion of completion, the experimenting with mechanics and ways of manoeuvring around in the world while gaining pleasure from this is part of Blow's point. The joys we get from doing this because we can are the same joys of tinkering that led to the Manhattan project. To some extent gamers are all Tims, tinkering away and playing with time, dithering to avoid reality or consequences. Many game theorists claim the fundamental reason we play games is to learn, and when we can learn nothing more the game holds nothing more for us. But we don't just play around with
Braid
, our path is authored and burned right into the ground. It is Blow who leaves us the smoking guns, who teases us with potential and constant what-ifs only to turn round and mock us at the end for deigning to play him at his own game. Is this Blow himself having the last laugh or is it a final message from dislocated time authored into the text from afar, which 'thinks differently' to other people when designing these spaces? It's designedly ambiguous, and even though I'm not supposed to appreciate that because, yes, I trapped the princess, guess what, I can still analyse it.
I'm able to ask all these questions because
Braid
does make you think, and finishing
Braid
makes you think even harder. But playing
Bioshock
made me think and changed how I thought, playing
MGS
in its various incarnations made me consider the game and its story as something that extended beyond the box and the little world presented in it, and playing
Rez
made me appreciate how gaming experiences can cohere like no other. Hell even playing
Broken Sword
saw me reading up on the Knights Templar and delighting in the realisation that the designer had obviously read up on the Knights Templar too! Admittedly the direct, thoughtful and clear link between gameplay and narrative was less obvious in these games, in fact it is less clear in pretty much all the games I've ever played, but was it really so conspicuous by its absence?
Braid
wants to make the story meaningful solely through the gameplay. The text alone and the imagery alone will not work unless cohered through gameplay and, to some extent at least, contextualised by having played
Super Mario Brothers.
This is the great unsaid bit of
Braid
that needs to be enacted, the reason why the time-reversal button only shows up when you die and not on the controls screen (Dude!). Blow's obsession was to craft a game with meaning in the mechanics, but he seemed to spin out this notional meaning further than it really wants to go. There was a joy to completing or striving with those other games which is conspicuously absent in
Braid
because
Braid
is so self assured and so single-mindedly certain of what it wants to portray. This determination is to some extent its only real flaw. It makes you think like a lecture makes you think, not a novel or a poem or a good movie. I like the game a lot, and needed to intellectually grapple with it in a ferrety way, but now that I've done that, it isn't such a big whoop anymore.
bookmark this with - facebook - delicious - digg - stumbleupon - reddit