Thursday, 25 December 2008
Wardog is still reading outside her comfort zone - and reviews William Shatner's latest autobiographical offering, Up Till Now.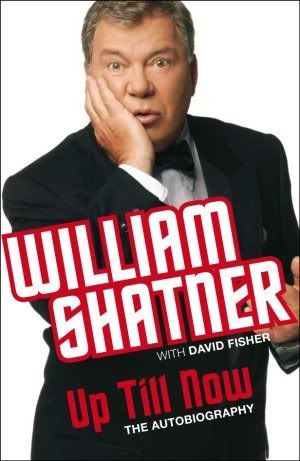 It was an unusually absurd moment. I was grappling with a photographer who had taken partially nude pictures of me being groped by an almost-naked starlet while being sacrificed by Ernest Borgnine as the founder of the Church of Satan looked on dispassionately.
William's Shatner's recently published autobiography is ... well ... inimitable; whether you'll enjoy it or not probably depends on how much generosity you're willing to accord William Shatner. For my own part: as much as he wants, I adore the man. His autobiography (or rather his fourth, since he has already written
Get A Life, Star Trek Memories,
and
Star Trek Movie Memories
, although to be fair those are specifically
Star Trek
themed) somehow manages to speed through Shatner's 77 years of life, most of which appear to have been spent starring in innumerable utterly awful films, making guest appearances on pretty much every long-running American TV series and game show there is, and failing to hit the big time in any kind of recognisable sense. He's also been married four times, once to an alcoholic who died in tragic circumstances, had three children, founded / become a supporter of a bunch of charities, and bought a ranch, but the events of his personal life take a backseat to the dazzling, unremitting barrage of amusing anecdotes.
There's his disastrous fling with stand up comedy: "I'm going to go in there like Shatner thinks he's Captain Kirk and I'm going to go in there like Captain Kirk thinks he's funny..."
There's his role in
Incubus
, the film that has the distinction of the being the only film ever produced and performed entirely in Esperanto: "...the somewhat desperate looks on the actors' faces in the meaningful scenes which invoked Fellini or Bergman or Kurosawa, scenes in which the actors looked as if they were attempting to comprehend fate or understand the magnificent works of God ... but it wasn't that all. We were trying to figure out the hell [the director] was trying to tell us."
Or there's
White Comanche
, the Italian western in which he played twin half-breed brothers, one good and one evil, who eventually fight to the death: "How dreadful was it? I think I can probably sum it up by quoting one of my better lines from the picture. After a good character shoots a bad guy he says knowingly, 'Next time, don't eat the peyote.'"
And let's not even mention his rendition of 'Lucy in the Sky With Diamonds.'
Up Till Now
(although, I must say, I
hate
the name.
'Til
is a shortening of
'until'
;
'till'
is something a farmer does to his fields) is a genuinely hilarious book, redolent with the irresistible sense of self-irony for which Shatner has lately become rather renowned:
"According to Variety ... William Shatner ... appears wooden ... Wooden? As a professional actor, those things don't bother me. And that particular review has continued to not bother me for more than four decades."
Of course the line about which he dances has always been a thin one - it's hard to know if it really is self-irony, if his tongue is really as firmly lodged in his cheek as it seems to be, or if he's just ... weirdly and profoundly clueless about everything, especially himself. Take for, example, his constant plugging of his site and store,
William Shatner.com
where, for example, one can purchase Incubus on DVD for $9.95, which as Shatner is quick to tell us, is "$2 less than Amazon!" - yes, it's knowing, but it's still
crass
. Shatner is either the ultimate piece of postmodern self-invention / self-promotion or a just a guy willing to haggle over the price of his own kidney stone.
I choose to give him the benefit of the doubt but I imagine it's a matter of personal taste.
Up Till Now
is a very easy-going, amusing and stylistically conversational (rambling?) book, and Shatner has certainly lived a life of varied insanity. He has also gone through some considerably dark times - the death of his alcoholic wife, Nerine Shatner, for example, and long periods of being lonely and alone, living in cold garrets and out of trailers, worrying about how he's going to pay his mortgage and support his family. He portrays - I don't know how deliberately - acting as an interesting but demanding and unglamorous career; his love for his craft and the pleasure he draws from public recognition are both evident, but, seriously, he doesn't seem to know why he did half the things he did, and I can't imagine why anybody would do them either. Although there is something close to arrogance about William Shatner - I mean, who else would ring up a radio station who called him an asshole to tell them he wasn't an asshole - or perhaps self-absorption (profound, unbreakable self-absorption) is a better word; but the man has no professional vanity at all. Over the years it seems that he has done
anything
that's been offered to him because it's part of what he sees as being his job, and it earns him money and exposure. And to even the worst C-movie, the lowliest commercial, the most banal of guest appearances, he's given his seemingly boundless energy and his full commitment. Alongside this is a dignity seeming lacking in modern celebrity culture, an acknowledgment of the rules of the game that speaks volumes for Shatner's common sense and decency:
"I had no expectation of privacy; as ever celebrity knows, the price you pay for all the positive things written about you is the surrender of any claim to privacy. It's a deal and we all make it: once you use the media for publicity you lose your right to complain about the media using your life to sell its product."
You have to respect this and his work ethic, and I totally do.
Up Till Now
, then, is an entertaining but shallow book - there are moments when Shatner comes close to peeling away the layers of his public persona, especially when he talks about the death of Nerine and his relationship with his current wife, but for the most part this is submerged beneath the surface of ridiculous stunts and hilarious stories. There are references to fear and loneliness and grief but Shatner is quick to distract you with something else that's shiny or yet another reference to
William Shatner.com
.
I do recommend
Up Till Now
, however; like Shatner himself it's unfailingly entertaining. For the truth of the man, however, who boasts of his 50,038 Myspace friends but doesn't mention a single real one over the course of his autobiography, you'd be better off with
Has Been
. Shatner does keep trying to have a singing career and, in this collaboration with Ben Folds, he seems almost to managed ... something? As has already been established the line between madness and genius, comedy and tragedy, self-irony and sincerity seems to be growing a little thinner with every passing day; but as a portrait of William Shatner and, indeed, music of a kind ...
Has Been
is peculiarly ... almost ... like ... something ... that ... might ... be ... good? Maybe?
I was crossing the snow fields
in front of the capital building
it was christmas and i was alone
strange city
stangers for friends
i was broke
as the carillons sang its song
i dreamt of success
i would be the best
i would make my folks proud
i would be happy
it hasn't happened yet
I really hope you nail it, Bill.
bookmark this with - facebook - delicious - digg - stumbleupon - reddit