Wardog rambles about Twilight.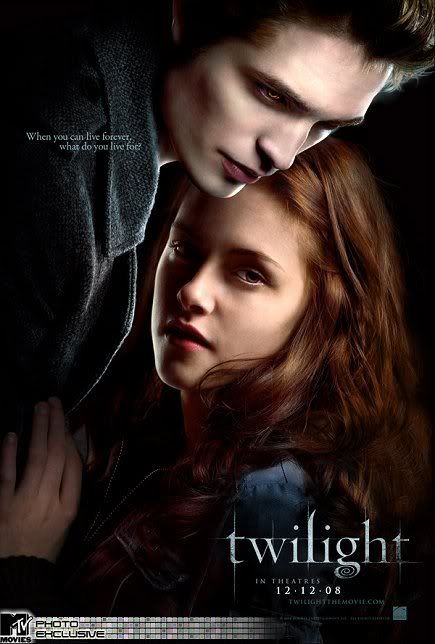 Look, there's no way of saying this gently, but
Twilight
(the movie) is awful. It's just awful. It's so badly paced, it's actually boring a lot of the time. And when you stop and think about it for half a second you realise that it's stupid and, potentially, offensive as well. But that's Meyer's fault, not the film's. But, still, like the book to which it is almost co-dependently true, there's something about it that makes it ... addictive, in the most tepid, bloodless way possible. Like ready salted hula hoops.
But what the
Twilight
movie does exceptionally well is capture the atmosphere and preoccupations of the book. The lingeringly dreary tale of Bella Swan falling for Edward Cullen, the biggest vampiric pussy ever to grace the pages of romantic fiction, is re-created with all the intensity of the original, and told without a glimmer of humour or self-irony. Which, remarkably, works in its favour - since a sense of self-irony is something that develops
after
being a teenager has already fucked you up beyond redemption.
So in terms of fidelity to the original, it is, at least, well done. The Cullen clan are all spot on, especially Alice (although Jasper looks lobotomised a lot of the time). And the guy playing Jacob - who I always preferred to Edward although I understand Meyer psychos him up in later books - is, true to form, hotter than Edward, much as I love Robert Pattinson. The two leads have impossible tasks but somehow they manage to imbue their lingering looks and clunky dialogue with some sense of conviction - I thought they were both nuts but I believed in their nuttitude.
But let's face it here, there's no way this review can ever be fair (or even a review) because
Twilight
isn't aimed at me. Far more interesting than the film, to be honest, were the reactions of the audience. It was comprised mainly of teenage girls, who shrieked, sighed and swooned their way through it, and their long-suffering kid brothers who couldn't contain their utter contempt for everything that transpired, occasionally bursting into uncomprehending, hysterical laughter or expostulating "dude! This sucks!" in tones of utter despair. As I left I ducked into the lady's toilets and was thus subjected to a barrage of high-pitched enthusiasm about the gorgeous Edward Cullen and the romance of it all. Waiting outside, my companion in being grown up enough not to get it, overheard two boys as they left:
First boy: That was the worse film, ever!
Second boy: That's the last we ever see a chick flick.
Oh bless. But then
Twilight
wasn't for them either.
I reason I quite enjoyed
Twilight
when I read it was because I gave it too much credit and thought it was an allegory. I've always really like paranormal teenage stuff. It makes perfect sense to me. I mean when you're between the ages of 13 and, well, 27, attractive members of the opposite sex do seem like these impossible, unknowable, unattainable creatures so they might as well be vampires or werewolves or vampirates (okay, maybe not vampirates). And since a large part of growing up is getting to grips with a world both hostile and full of secrets people won't tell you, again, it makes perfect sense for those secrets to be "there are vampires in it". And since you're undergoing a horrific process of unstoppable uncontrollable change that you both want and don't want, why shouldn't it be represented by discovering that you're also the High Queen of Faerie, or a Vampire Slayer, or whatever? And, finally, of course there's the problem of sex - its dangers and attractions are beautifully encapsulated by the dangers and attractions of supernatural power, manifest either in others of yourself. That it articulated these ideas so clearly, so cleverly and so wittily is one of the (many) strengths of early season
Buffy.
Unlike
Buffy
,
Twilight
is not
knowing
. But it is terribly terribly serious and that's why it works. Teen crushes and love affairs (to be honest, crushes and love affairs in general) are rarely humorous to those involved: unrequited love is the most painful of adolescent experiences and your first taste of romance the most intoxicating. And although when you look at Edward Cullen with the eyes of an adult you see an obsessive, domineering, disempowering, semi-misogynistic nutjob, when you look at him with the eyes of a teenager, he's utterly, profoundly desirable. His whole world is Bella - because he never sleeps, he can literally spend every hour of every day either with her, watching her or thinking about her. He has no life and no interests outside her - for the rest of us that alone cries out "restraining order", for a teenager (to make this less patronising, I'll say, for my teenage self) the idea of someone being completely bound up in you is breathtakingly romantic. As a teenager, you are still semi-dependent upon various authority figures (school, parents, etc. etc.) and very probably highly uncertain in yourself - thus the idea of another person
needing
you for anything cannot fail to be appealing. Again, I'm making a lot of generalisations about The Way Teenage Girls Feel here, but I associate my own teenage years with confusion, helplessness and a fair quantity of misery. Quite frankly, I wanted an Edward Cullen - because I thought that through the value given to me by another I could learn to value myself. Feeling incomplete, because, quite frankly, I was, I was searching for romance to "complete" me. That real loves exists only between two fully self-actualised, functional and capable human beings is something one learns only in later life.
What I'm trying to say here is this: it's theoretically okay to like
Twilight
. I even believe it performs a useful function: rarely are these private ideas and desires as well-realised as they are in
Twilight
. It's nice to have someone stand up and say "yeah, sometimes girls want this"; unfortunately, where it becomes problematic is that it never acknowledges its own status as fantasy and it never grows up. Now, I read a lot of a romance so I'm quite happy with fantasies progressing down whatever path they happen to progress - the alpha male may not appeal to me personally but I'm capable of recognising that it's perfectly acceptable to fantasise about having a domineering man with storm grey eyes who is secretly in love with you but doesn't know how to express it fling you down across the bed and have awesome sex with you until you get to like it. Women are very capable of recognising that when they want flinging it's on their own terms and that a man who behaves like an attractive asshole in a book may not be so attractive in real life. I like romance because it's such a grown up genre: it's a safe space where we get to shrug and let ourselves get swept away in what could be a rather politically incorrect fantasy and nobody accuses you of being too dumb to be able to tell the difference.
Because, as I have said, that
Twilight
isn't
knowing
, its status as a fantasy becomes problematised. Basically there's no acknowledgement that it is one; there are elements of the fantastic, gorgeous vampire falls for everygirl etc, of course, but the book never invites us to question their relationship. And, really, given its nature, we should. I could easily list the ways in which Edward and Bella's relationship is fucked to high heaven but since we're all intelligent readers I won't bother. I suppose the quintessential example, however, would be Edward's refusal to turn Bella into a vampire. This is never really open for discussion, one gets the feeling Edward has made his decision and that's that. You'd think that, as an equal participant in a relationship between two people, Bella's opinions should be at least relevant and that their final decision on the matter should be one they have reached jointly. That's what happens in functional relationships. But Edward is not to be persuaded: thus it is very much his decisions, not their decision. He thinks he's protecting her but his behaviour implies that he does not trust her to know what she wants and, in this, as on many other occasions, his protective streak is actually revealed to be rooted in fundamental disrespect for Bella's ability to live her life and make decisions.
Interestingly, despite the chorus of sighing from the teenage audience, I was impressed by Robert Pattinson's portrayal of Edward Cullen. I found him genuinely a bit creepy. He's so obviously ill-at-ease with who and what he is (unlike the rest of the Cullen clan who seem perfectly content to be vampires) and his self-loathing is both evident and off-putting. I think the other girls were titillated by the air of danger and emo but, actually, it's hard to love a man who hates himself. With a weirdly twisted smile, Edward characterises their relationship: "a stupid lamb and a sick, masochistic lion" - the point that Pattinson (bless him) seems to be trying to convey is that he genuinely means it. He thinks Bella is stupid for loving him and, quite frankly, she is (never trust a man who wants to eat you, girls); and he hates himself to such a degree that he cannot respect anyone who purports to love him. This is, of course, precisely what Pattinson has said in interviews - and I'd like to send him about two tonnes of love for actually managing to bring it out of the text since, you can see from reading about half of page of the book, it is something one reads into it, rather than something that is meant to be read.
Edward's love for Bella is truly masochistic at heart - since he must exert constant control to avoid eating her, he never allows himself to forget his own predatory nature, the very nature he despises. I think, through his protection of her, he is attempting to protect the part of himself he conceives as lost - his innocence, his mortality, whatever you want to call it. Regardless, it's messed up and in no way a grounding for a healthy relationship, even, or perhaps especially, with a 17 year old girl. Combine this tortured emotional masochism with an equally tortured attitude to sexuality and things really get nasty. Given Meyer's background, it's not surprising that
Twilight
, despite the gushyness of its romance, is essentially sexless but the intermingling of Edward's bloodlust and, err, lust-lust, however, serves to present sex as something dangerous and potentially fatal. Noticeably Bella spends most of Edward's kisses (and also her wedding night) unconscious. By this stage we have left the realm of fantasy far behind and moved full time into "just plain wrong".
Now I'm not going to get onto a soapbox and start sputtering that this not appropriate reading material for our children. The first book at least functions as a fantasy and as an honest expression of not-entirely-healthy teenage desires. And, although if you pay even the slightest bit of attention, you can see some very disturbing undercurrents, it was clear from the giggly enthusiasm in the cinema nobody gave a damn. We went there to see Robert Pattinson looking intense and beautiful with his insane bedhair, his silly sparkling skin and his dodgy crimsoned lips. That's what we were looking for, and that's what we got. And, for the moment, that's okay.
Some Rockin' Twilight Links
Oh God, no
Growing Up Cullen
Cleoland's Discussion of Twilight
, including her recaps of Midnight Sun
My second favourite Robert Pattinson interview
My top favourite Robert Pattinson interview
bookmark this with - facebook - delicious - digg - stumbleupon - reddit