Thursday, 08 January 2009
Wardog gets all consumed with irritation for Consuming Passion: 100 Years of Mills and Boon.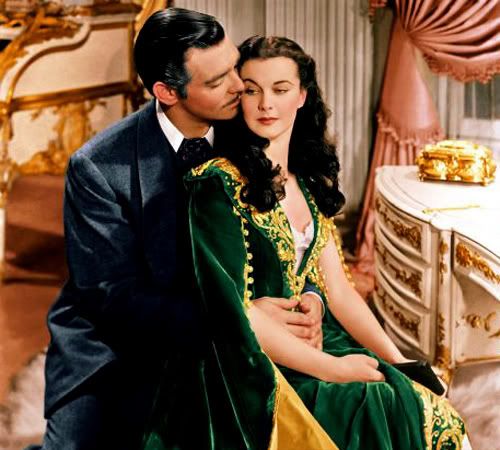 I was cruisin
BBC iPlayer
(the innovation of kings) the other day and I ran across
Consuming Passion: 100 Years of Mills and Boon,
a one and half hour play written in celebration? acknowledgement? of the fact that Mills and Boon, despite being the publisher of perhaps some of the most universally scorned books ever written, have hit their hundred year anniversary.
Happy birthday, Mills and Boon!
Consuming Passion
takes place over three timelines, involving three women connected only by Mills and Boon. There's the lonely, frustrated wife of Boon himself back in the early days of the publishing house, there's a lonely, frustrated secretary in the 1970s and, in the present, a lonely, frustrated English tutor at a generic university. There's a bit of a theme here, do you see? In the past, we see Mills and Boon flourish under its unique publishing doctrine: books by women, for women, published en masse. Boon himself is a lower-class workaholic with a desperate need to prove himself; his beautiful wife, a posh bird, adores him and supports him, attempts to inspire passion in him and keeps the business afloat when things are on the verge of going bum end up over a barrel. Secretary Girl lives a quietly unfulfilled life, working at an unsatisfying job, looking after her querulous mother, devouring Mills and Boon novels. When her mother needs a hip operation, she meets a smouldering surgeon who, naturally, turns out to be a sleazy bastard, but he does inspire her to write a Mills and Boon of her own. In 2008, English Lecturer Woman is in a rather tepid relationship with some dude she lives with. She teaches a course on the Romantics, which apparently culminates in a module on Mills and Boon. Like, what the fuck? It was hard to respect her after that, despite the fact she was played by the gorgeous gorgeous Emilia Fox. In what academic world would a course on Mills and Boon be part of a course on the romantic poets? Presumably a course that began with Chretian de Toyes? But putting my bitching aside, a hot student with a tendency to wander around sans shirt comes on her course and, partially inspired by their discussions of Mills and Boon sexuality, lo, they end up bonking.
So there you have it.
The 2008 story also affords excuse for some ham-fisted exposition about the history of the Mills and Boon, as well as some pseudo-academic commentary on whyever it is that women like theses things. Unfortunately it failed to provide any kind of context for the stories, or coherency to the overall message of the piece (assuming there was meant to be one). To me, at least, it felt neither like critique nor celebration and lacked anything like sympathy or understanding.
The Boon / Wife plotline has several rather heartbreaking incidents in it - she writes him a passionate letter while he is away fighting in the war, to which responds by inciting her not to get hysterical and to buy him some more socks, for example. It is resolved, if resolved it can be called, when his return and the death of Mills, sees him fretting about the future of the publishing house, without which he will have "nothing." Needless to say, this is the final straw for Mrs Boon who has devoted her entire life to him and she yells at him a bit. "But dear," he says, uncomprehending, "you're my rock and I love you". She explains that he has never made her feel as if he has. "But I do," he insists, kissing her tenderly. "How can you not know that." "I need to be told," she tells him. "Women need romance." They kiss more. Now, perhaps I'm unforgiving sort but I think "sorry dear, you're my rock" does not in anyway approach making up for years of neglect and a fundamental failure to understand the needs of the woman you have married. It's not even starting a point.
Secretary Girl conceives a wild, quite honestly stalkerish crush on the mean-eyed ruggedly handsome Doctor. Needless to say, it does not end well, she realises he is not a hero with a dark past, he's just at dickhead, but it's okay because Mills and Boon are going to publish the book she's written, inspired by him. We are told that leads on to a successful career as one of the most iconic and imitated Mills and Boon writers ever. We do not learn if she ever gets a personal life.
In 2008, Emilia Fox's antagonism to her arrogant but passionate, ever-shirtless student naturally gives way to lust and they go at it like bunnies for a while (God, Emilia Fox is gorgeous). This leads her to dump her uninspiring partner and, after a few hiccoughs, to move towards a tentative commitment with the A.B.P.E.S.S, despite the age difference and the fact that relationships never work out anyway.
What we are meant to take from these stories, I am not entirely sure. I suspect they are meant to simultaneously celebrate and critique the typical Mills and Boon romantic arc: each of the women finds happiness but in each case it is shadowed by compromise. Mrs Boon is still married to a passionless dickweed, albeit a passionless dickweed one she purports to love, Secretary Girl is a successful writer but still, probably, a lonely wallflower with obsessive tendencies, and the relationship between Emilia Fox and her A.B.P.E.S.S may fall apart within a few months or a few years. Although the relationship between Emilia Fox and her student develops along Mills and Boonish lines, with antagonism turning quickly to - or always having been a more readily owned substitute for - passion, the other two stories eschew such familiar tropes. Mrs Boons' story begins
after
she is married, whereas most Mills and Boons (bar "convenient marriage" historicals)
end
with marriage and Secretary Girl neither wins her cruel Doctor nor learns enough to reject him for his obviously much nicer friend.
But none of these stories, together or individually, every really say anything - either about women or about Mills and Boon. Emilia Fox's lectures introduce the viewer to the facts and figures behind Mills and Boon; but even though the programme seemed willing enough to acknowledge, and perhaps even admire, the prevailing popularity of the books, I felt there was no real understanding as to why people continue to love them. Obviously Secretary Girl reads them and adores them, but she is such a pathetic (in the sense of pathos) and unattractive character that we feel sorry for her, rather than identify with her. Emilia Fox's character seems actually embarrassed to be teaching a course on them - in the opening scene she drops one of the books on the way into the lecture theatre and the hot shirtless student picks it up for her. "Interesting choice of reading material," he says, smiling provocatively. "Actually I teach them," snaps back Emilia, as if the idea of any educated woman reading them for the pleasure of it was something she could not bear to countenance. There is some rather discussion of the Mills and Boon phenomenon, but it is always presented as something faintly alien as if reading Mills and Boon is something other people do. Emilia Fox trots out the old "they're actually feminist because it is the man who is tamed into the female domestic sphere, not the woman who surrenders" line. Hot Student is particularly bewildered by the prevalence of "force fantasy" in the modern sexed up incarnations of the imprint, and eventually concludes that it is a way for women to enjoy sex without guilt or responsibility. Well tried. Have a B+.
He, like the show itself, has failed to understand the nature of fantasy. There is a difference, surely, between what a woman fantasies about and what she wants: Consuming Passion seems to assume they are one and the same, or at least come from a very similar place in the female psyche. Why can the world not give romance readers any credit? Secretary Girl's engagement in the Mills and Boons she reads is portrayed through fantasy sequences and she is always the heroine. Similarly, when she writes her book, she, again, casts herself as the heroine and the Doctor she met at the hospital as the hero, essentially experiencing through the medium of her book a romantic relationship she could never have with him in real life. The more she writes, the more she is drawn into the fantasy, even so far as to address the Doctor by the fictional name she has given him and to throw herself at him, believing him to truly be the wronged-in-love dark hero she has re-invented him as. The result of this is to portray the writing - and the reading - of Mills and Boon novels as the act of women who have only a tenuous grip on reality and use them to escape into lives they would rather have. There is a difference between indulging a fantasy and actually wanting that fantasy to happen to you, and most people can tell the difference. (Of course, there are also fantasies we do want to happen us but that's a different story...)
There's a fascinating essay by one of my favourite romance writers, Laura Kinsale, called 'The Androgynous Reader' which posits the idea the heroine in a romance novel is a mere placeholder and it is the hero who the female reader actually inhabits for the majority of the novel, although she can also inhabit both the hero and the heroine, thus experiencing (and feeling) the courtship from both directions, while retaining her sense of self. But through the hero, the female reader can experience aspects of her own "maleness" denied to her by the binary construction of gender identity, and the traits she may associate with it, power, ruthlessness, pride, protectiveness, and so on and so forth. The final union of the hero and heroine, far from being about submission of either masculinity to femininity, or individuality to conventionality, dramatises the harmony a woman may find in the working through of her various selves, finally reconciling them in a "happy ending" of her own.
Basically I think it's a rockin' essay (that's a technical term, I learned it at Oxford) and it makes a lot of sense to me, more so than the tired female empowerment messages Emilia Fox mentions, or the equally tired musings about why it is that heroes in romance novels so regularly enact sexual violence upon the heroines. And I mentioned it specifically because Consuming Passion's portrayal of Secretary Girl's engagement with Mills and Boons is based upon, and entirely locked up in, assumptions about romance novels and romance readers which simply aren't true. There is far more involved in reading and writing a romance novel than simply pretending it's you at whom the hero is growling.
I won't say that
Consuming Passion
isn't mildly entertaining, but so is watching someone you don't know miss a bus. I think part of the problem was that it tried to do too much at once, and that it was trying so hard to "say something" that it wouldn't let itself just let its hair down and celebrate Mills and Boon. The only conclusion it seemed remotely comfortable coming to was that "women just need romance" in their lives, which is what Mrs Boon tells Mr Boon after he's spent their whole marriage being crap. This is almost as misguided and borderline offensive as its attitude to reading romance novels. Perhaps I am, ironically, too romantic for my own good but surely people generally would fare better with romance in their lives, not just women? Obviously I'm not a man (just an androgynous reader) but I can't believe a desire for romance is the sole provenance of women. Isn't romance something that exists between two people? Something they create together, not out of red roses and diamond rings, but through their love for each other? Consuming Passion presents it as something that women want, and men provide. Which has to be the least romantic thing I've ever encountered.
bookmark this with - facebook - delicious - digg - stumbleupon - reddit